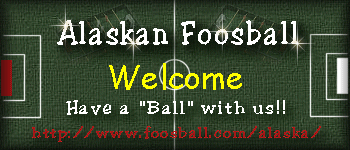 Welcome to Alaskan Foosball!
CLICK HERE for Alaska State
Foosball Tournament Schedule

Come one, come all
Let's play foosball!


Bird Point, Seward Highway - If only we could play outside!

For contact or questions, telephone
Kevin Gates at 907-727-0319
or email Mandy Gershon @ lahtera@alaska.net

Very special thanks to the following
for making Alaskan Foosball play possible:
Ray Topkok
The Late & Great Ed Lobb
Tony Moreno
Kerry Hennings
Jody Hennings
Paul Broach
Kevin Gates
Thanks to Foosball.com for hosting the site!
Thanks to Mind & Soul for the Foosball Banner.
Photos taken by Mandy Gershon
and/or other Alaskan Foosball members.
Foosball web set theme
created by Mandy Gershon using
JASC Paint Shop Pro 7
Microsoft FrontPage 2002
Microsoft Photo Editor
Microsoft PowerPoint
This theme is not free linkware
and requires permission to use.
Site created February 27, 2001
Updated September 11, 2009